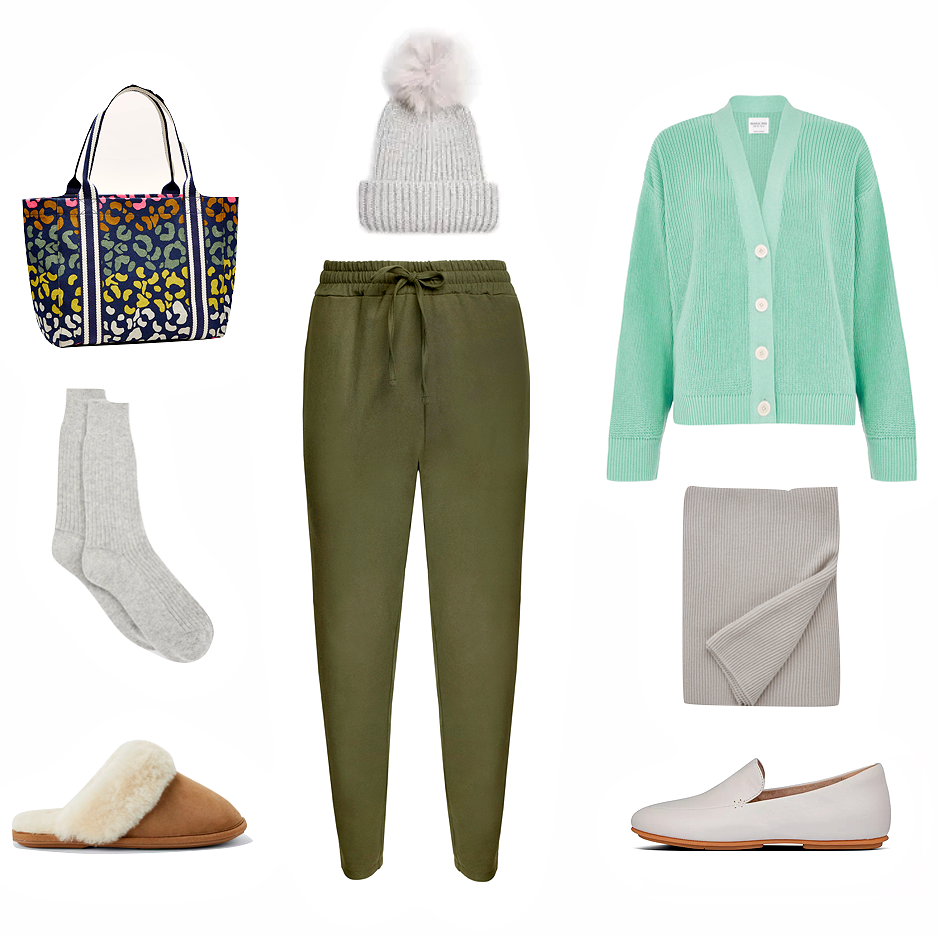 Firstly I would like to thank you all so much for contributing to my survey and for all your kind words of encouragement. I have listed eighteen topics that you would like me to cover on this blog. The top two were "shop your wardrobe" and "casual dressing ideas". At the moment I could probably combine these two topics. On a day-to-day basis I tend to mix and match my casual items to create my everyday outfits. So today I have put together a couple of collages on how to dress comfortably and still look chic.
Some of you like to see what is new in the shops so that you can begin to plan your wardrobes. For today's post I have done some research and put together two collages with ideas of how to dress comfortably and still look chic.
Details of above:
Abstract patterned tote Boden | Bobble hat Nordstrom |Green cardigan People tree |Grey socks JL&P |Khaki joggers People Tree | Soft grey wrap Cos | sheepskin slippers JL&P | Light grey loafers Filflop.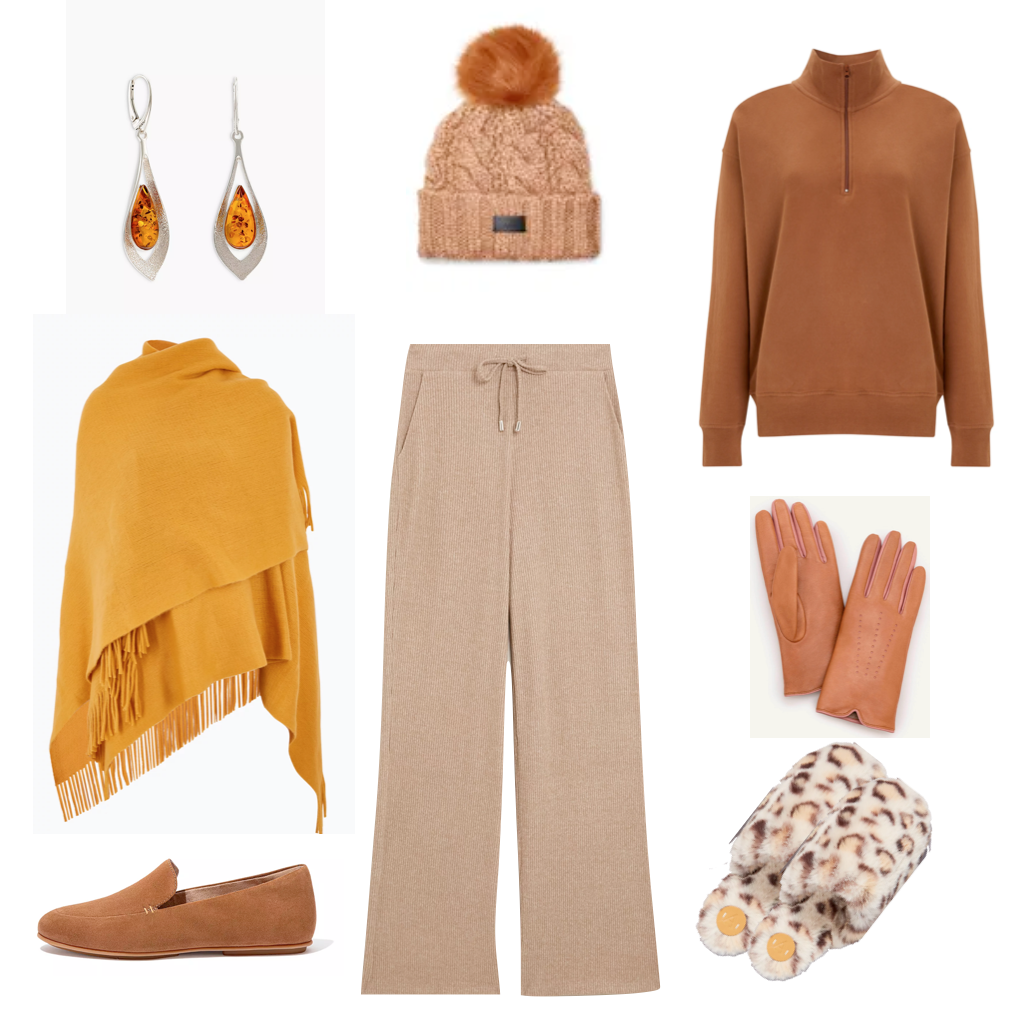 I have focused on the warmer colour tones as I am aware that the colours that suit me and that I wear most often are from the cool bright spectrum.
I have my eye on another pink top from MeandEm. Very tempting!
Details of above:
Bronze earrings JL&P |Bobble hat Nordstrom|Brown top Baukjen |Ochra tasseled poncho M&S |Wide beige trousers M&S |Tan leather gloves Boden | Tan suede loafers Fitflop|Leopard slippers Anthropologie.
Having read all of your comments these are some of the other topics you are interested in me covering in this space:
1. Books and film/TV reviews – I will definitely get round to these subjects and have got a couple of friends who will be happy to contribute.
2. Home and garden ideas. If I can manage to take some photos of our house I would be happy to share them. Not so much on the garden front. We are lucky that we look out onto stunning communal gardens which are very well maintained. We do have a couple of patios where we grow herbs and annuals but I would not say that I am a very knowledgeable gardener.
3. I will be covering some basic pilates and stretching exercises using videos from my pilates teacher.
4. Quite a few of you wanted to continue with the recipes and nutrition so I will schedule these about every four to six weeks
5. Sustainable fashion. My philosophy on this is generally to buy well, buy better, look after your clothes and keep them as long as possible. As you know I have items dating back to the mid-90s. I don't do fast fashion and check the credentials of all the brands I feature. I check the fabric and generally speaking avoid polyester and synthetic fabrics. A couple of sustainable brands have caught my eye recently.
6. Role models – My thoughts on the subjects are that there is so much on social media already especially with regard to celebrities. I do think that we can get inspiration from role models but ultimately we need to create our own unique styles. I often look at women in the street and think "maybe I could try that."
How to dress comfortably and still look chic