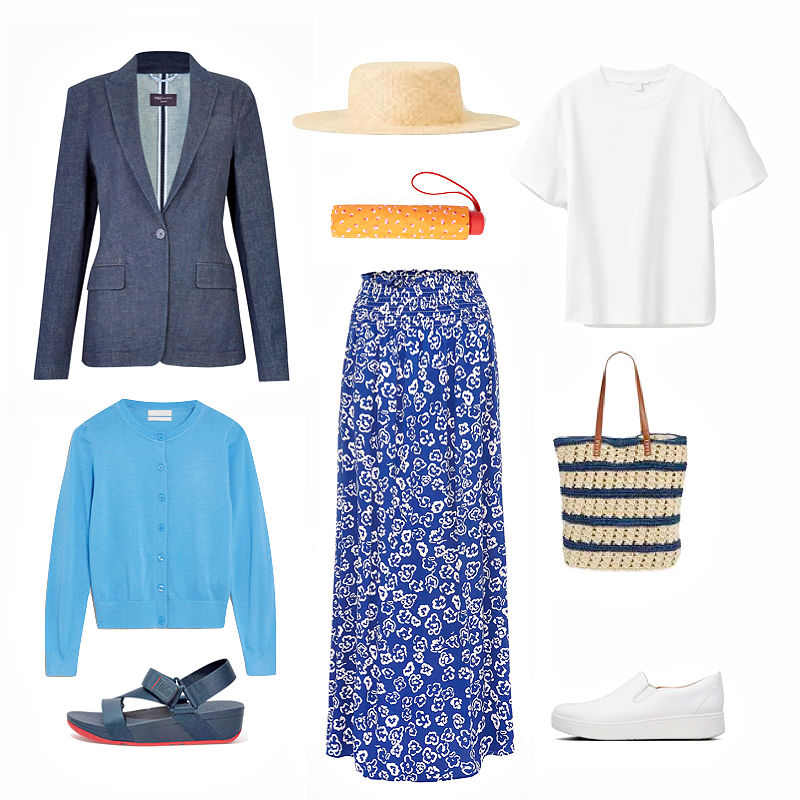 I had two of my young grandchildren stay with us last weekend. The weather was so changeable it was difficult to keep them entertained. On Saturday we visited the London Wetlands, which luckily is just down the road from us. On Sunday we decided to go into Barnes Village and feed the ducks. After which we treated ourselves to coffee and croissants at Gails Cafe as it had already started to rain. One of my favourite occupations is people watching and especially noticing what the fashionable women are wearing. Barnes is definitely what might be termed an upmarket area and most of the women are well dressed and on-trend. So I thought that today I would write a post on how to copy the coffee shop uniform.
This seemed to comprise of a maxi or midi skirt mostly printed, combined with a classic tee and either sandals or white trainers. The occasional denim jacket or cardigan. So I had a search around a few of my favourite shops and have come up with my version of the look.
Details of above:
Navy blazer MarksandSpencer | Straw hat Cos | White tee shirt Cos | Orange umbrella MarksandSpencer | Blue cardigan MarksandSpencer | Blueprint maxi skirt Phase Eight at JohnLewis&Partners | Straw bag Nordstrom | Navy sandals Fitflp | White slip on trainers FitFlop .
I am very tempted to add a maxi skirt to my wardrobe as I am becoming a bit bored of wearing trousers most days. I also feel that it will transition well into early Autumn when I can wear it with a sweater, jacket and boots.
Here are a few examples that you might like. I have chosen midi skirts as well as maxi as they will probably work better if you are petite.
I will be taking a few days off next week as I have my two eldest grandsons coming to stay so will probably only be writing one post.
August is a strange time for fashion so if you have any topics you would like me to cover either leave a comment in the comments section or drop me an email on Chicatanyage(at)icloud.com.
How to copy the coffee shop uniform: