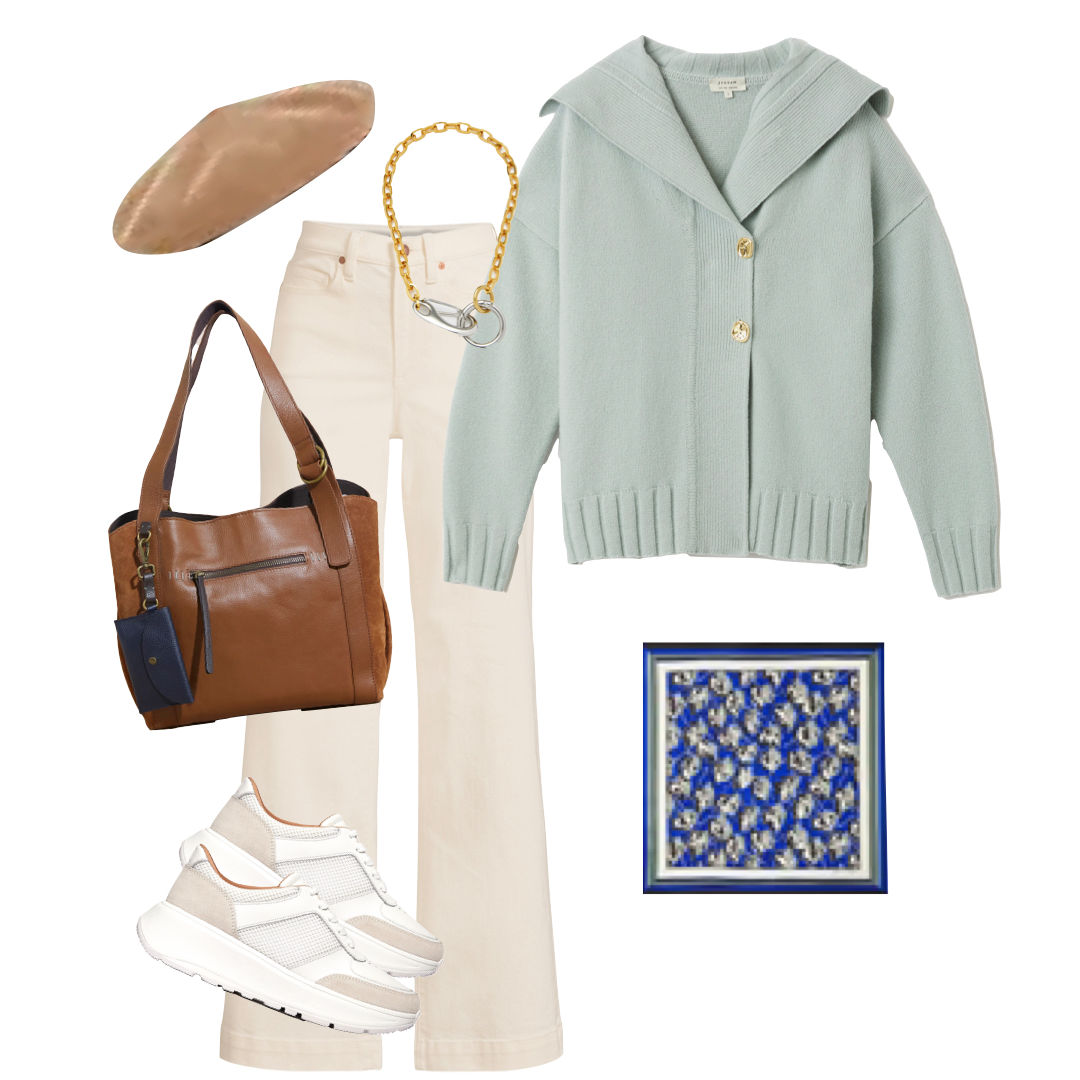 Do you love or hate jeans? Wear them often or hardly ever? It is a personal choice. From skinny to wide-leg jeans styles go in and out of fashion. Let us discuss how to choose jeans that flatter our more mature bodies. Personally I love jeans. I like to dress them up or wear them casually. I wear them at home whether I am working on my computer or doing the housework and find them particularly useful if I am looking after my grandchildren.
Details of above:
Tan Beret Free People || Chain necklace Collagerie at Jigsaw || Soft wool side button cardigan Jigsaw || Tan leather bag MarksandSpencer || Recycled denim high rise wide leg jeans LandsEnd || Beige/white trainers Fitflop || Silk scarf Collagerie at Jigsaw.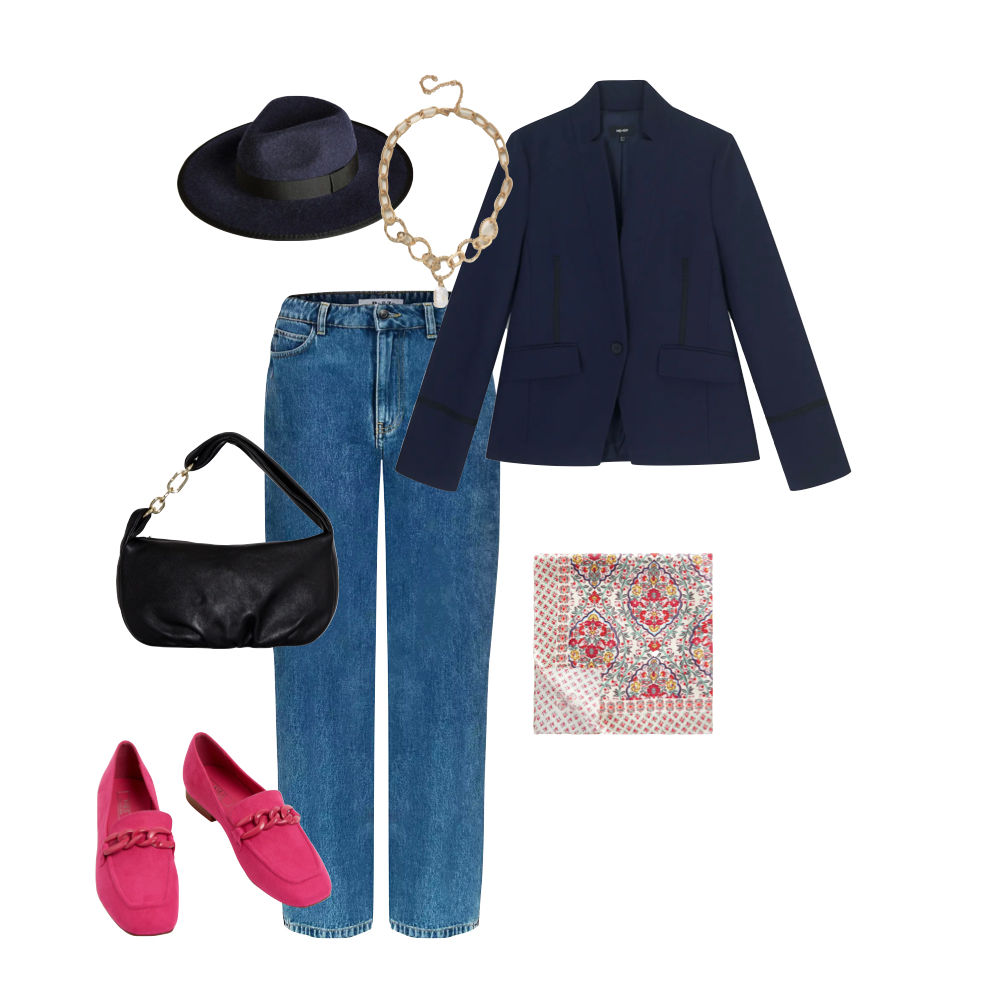 Details of above:
Navy fedora hat Boden || Chain necklace Autograph at MarksandSpencer || Blazer MeandEm || Straight leg jeans Levi at JohnLewis&Partners || Black bag Cos || Chain detail loafers MarksandSpencer || Silk scarf Boden.
What should women over 60 consider when choosing a pair of jeans?
The main thing to consider when choosing jeans for women over 60 (or at any age) is comfort and fit. Darker denim with stretch is generally more flattering than pale-washed jeans. High rise or styles that sit on the waist are more suitable as we age. They help elongate the leg and conceal a "muffin top".
Whether you are shopping online or in a shop be patient. It may take a while to find the perfect pair of jeans for you. We are all different shapes and sizes. Make sure you have a good full-length mirror available to view all angles. Check the waist fits well, is not too loose or too tight and that the pockets are well placed. Try on your jeans with the shoes or boots that you intend to wear them with to make sure the length is correct.
The most universally flattering jean cuts tend to be flared and bootleg. These streamline the silhouette, balance curves and make the choice of footwear easier. The placement of the back pockets is also key. Too big and too low will give the optical illusion of a lower and wider bottom area.
High-waisted jeans work well on "petites". Adding a little more volume on the top in a matching or toning colour will help elongate the body.
Slimmer or straighter cut? My most flattering style is a straight-leg style from Levi. As my figure is pear-shaped (wide hips in relation to bust) I also look good in boot-cut jeans. I have the advantage of being tall so I can wear wide jeans, which are very popular at the moment. They are ideal if I want to make a fashion statement (not advised if you are petite). MarksandSpencer has a good range of jeans as you can choose different leg lengths short, regular and long. They also have a magic shaping range in various styles which help to flatten tummies and lift bottoms.
Styles to definitely avoid would be low-waisted jeans as most of us tend to carry more weight around the middle after 60. Personally, I have never found this style very comfortable. Ripped jeans are a no-no in my opinion.
Always be mindful of your lifestyle when shopping for jeans. Think about sitting, leaning over and bending down when trying them on. Take some selfies when trying on your jeans this helps you to get a good perspective.
I love MeandEm jeans. They are pricey, however I have had a couple of pairs for many years. They do wash and wear well. Boden and J.Crew also offer a good selection of styles.
A post I wrote three years ago about how to wear jeans in three different ways.
I am finally back in Grimaud so will be taking some photos of St.Tropez market next week.