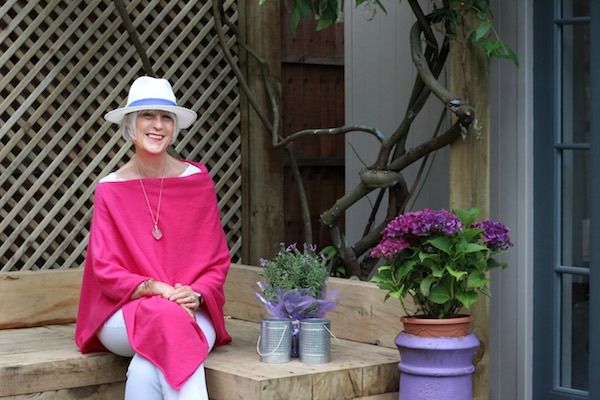 Photo taken by Laura Hines
Have you ever noticed the effect that color has on your mood and motivation?
If you are a lover of all things neutral like me…it's easy and safe to stick with your gray, black, white, navy and camel and forget what a strong pop of color can bring to your day!
Shocking Pink…the signature color of the Italian designer Elsa Schiaparelli who described it as "life-giving, like all the light and the birds and the fish in the world put together, a color of China and Peru but not of the west".
Add some shocking pink to your week…live it up!!
I am wearing the Hope silk/Cashmere poncho (reduced from £95 to £16.25 in the sale). It was kindly gifted to me when I attended the 30-40+bloggermeet in June.
Hope currently have a 50% sale on selected items. The cream top I featured here (also available in black) is now only £32.50. It does not crease and is a great travelling piece.
I have paired with a pair of white jeans and white T shirt for a fresh summer look when the wind is a little chilly.
SELECTION OF STRAIGHT LEG WHITE JEANS
(some styles on sale)