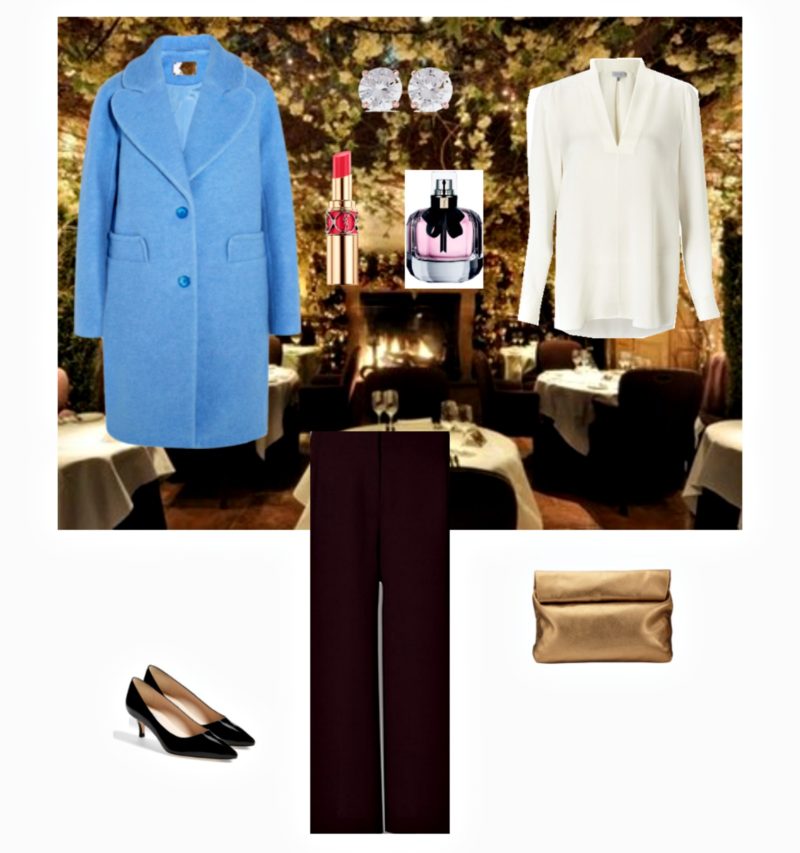 This is the final post in my current collaboration with Susan of Unefemme on the difference/similarities between dressing in LA and London. We have been exploring "what to wear for specific occasions."
It is the season of office parties, drinks with friends and festive dinners in restaurants. I love going out to diner. It is such a treat. Whether an intimate visit to a romantic restaurant with your significant other or meeting up with friends at a trendy bistro. It is one of the few occasions when I might wear a pair of court shoes with a mid-heel. As we live near London Uber is a good option for transport in the evening.
During December in London the weather can be chilly so a coat is necessary. I love a brightly coloured coat. I find that it cheers me up when the weather is dull and grey. Both Susan and I spotted several blue coats on the streets of Paris during our recent trip. I have teamed this stunning blue coat with a simple cream silk top and wide leg trousers. I have several cream shirts and tops. They provide excellent basics and always look smart as do black trousers. You can add a touch of bling with the stud earrings and bronze clutch. Metalics are very on trend this season.
I shall be wearing my black trousers with a pair of diamond earrings on Christmas day. I will be swapping the heels for a pair of flat black pumps and the cream shirt will be substituted with mid or soft grey. As I will be cooking the Christmas turkey this year I will need to wear clothes that are comfortable and adaptable.
SHOP BLUE COATS – Popular in paris as seen here.
WEAR WITH