Are you a tennis fan and have you got a favourite tennis player you will be cheering to win this year at Wimbledon?
One of the main issues with summer events and deciding what to wear is the weather or at least it certainly is in the UK. Anything can happen especially as Wimbledon tennis is played on a grass not a clay court (although they do now have a sliding roof should there be a sudden downpour).
There is no official dress code for Wimbledon so just about anything goes. However I personally like to dress up a bit for events and if you are invited to a corporate hospitality tent it is wise to arrive well presented.
Some type of light raincoat, jacket or cardigan is essential as there is nothing worse that sitting in a stand all afternoon and feeling cold. Comfortable shoes are also advisable and an umbrella can come in very handy.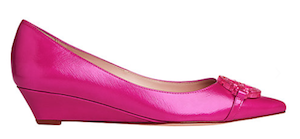 If you prefer low heels you could always substitute the heels in the collage for the wedges above. I have just ordered a similar pair in silver to wear for two upcoming events.
Strawberries and cream anyone?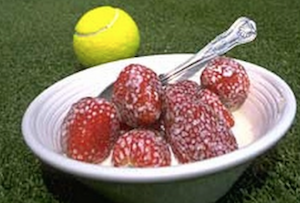 PS.It is a miracle that I have been able to get a post out this week. Phew it has certainly been a dramatic and exhausting one. My 3 1/2 yr old grandson was rushed into hospital at the beginning of the week with a suspected appendicitis. He had an operation on Thursday and luckily is beginning to recover. I am looking after his 10 month old brother. There are no "selfies" this week as I don't think I am displaying my normal "granny chic".
I don't know if you have the same experience but I seem to waste a lot of time worrying about things that rarely happen whereas I find that it is the unexpected events in life that can knock us for six. Also they all seem to come at once now my washing machine has broken down!
PPS. Apologies about the random post on hats from May. I did not touch anything, honest. It must be those Feedburner gremlins again.
Hope you are all well and enjoying the week-end.