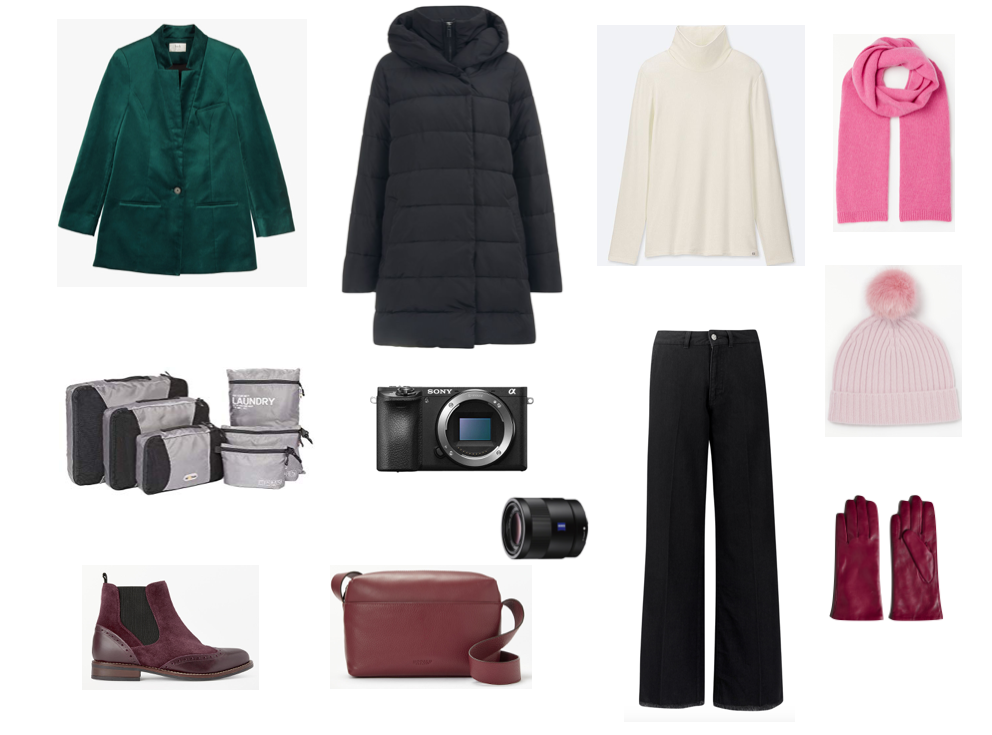 I am really looking forward to my trip to Paris next week where I will be joining Susan of Unefemme for two days of fun and photography. Not to mention a touch of shopping. We are both glad that the protests in Paris have now calmed down. We will be able to wander and explore to our heart's content.
It is a tricky time of year to plan a capsule travel wardrobe. My objective is to be practical, it can be quite cold and damp in December. I also want to look chic and elegant "comme Les Parisiennes" I have stocked up on warm thermal underwear from Uniqlo (US link). Land's end also has some good options in silk and wool.
My trusted puffa coat will keep me nice and warm and dry. I don't know what I would do without my puffa during the Winter months. To travel I will be wearing it over my new green velvet jacket (which is too bulky to pack in my rucksack) and my cream polo top (all details below). Plus my new Me&Em denim trousers (they are really soft denim and very comfortable). They are however very long, I had to get mine shortened and I am fairly tall. They do have other styles more suitable for Petites.
Details of above:
Top row: Green Velvet jacket Hush // Puffa jacket Hobbs // Heattech off-white polo top (US link) Uniqlo // Pink cashmere scarf John Lewis & partners.
Second row: Packing Cubes Amazon // Sony camera John Lewis & partners // Black denim trousers Me&Em // Pink bobble hat John Lewis & partners.
Third row: Suede leather ankle boots John Lewis & partners // burgundy camera bag John Lewis & partners // Cashmere/leather burgundy gloves Marks&Spencer
John Lewis has some excellent puffa coats. So do Lands' End and Nordstrom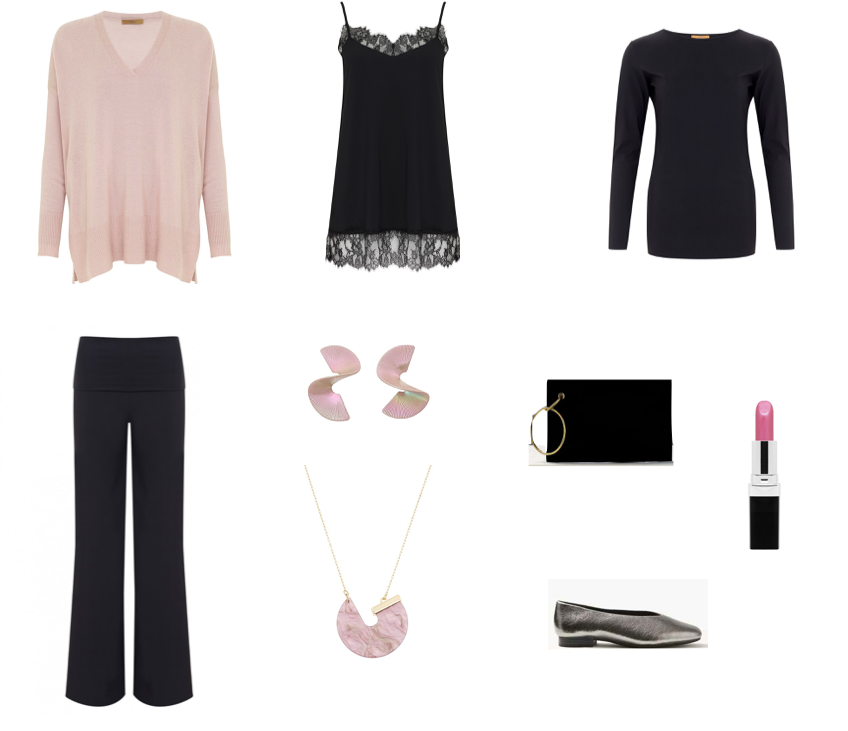 For the evenings I will be relying on my Hopefashionuk foundation pieces (I will be wearing the trousers during the day with a pair of thermal pants underneath. I am keeping my colour palette simple, mostly black or grey with accents of pink. Pink, as you know, is one of my favourite colours. The black camisole will also look good under the velvet jacket.
Details of above:
Top row: Pink woo/cashmere boyfriend sweater Hopefashionuk // Black foundation lace camisole Hopefashionuk // Black foundation top Hopefashionuk.
Second row: Black foundation trousers Hopefashionuk // pink twist earrings Oliver Bonas // Black clutch bag Marks&Spencer.
Third row: Pink pendant Oliver Bonas // metallic pumps Marks&Spencer // pink pop lipstick LFF.
PS: Hopefashionuk has a flash sale on selected partywear. Up to 50% off till midnight Sunday 9th.
I am off to Paris next Thursday. Do follow me on Instagram as while I am away I will be posting my Parisian adventures on a regular basis.