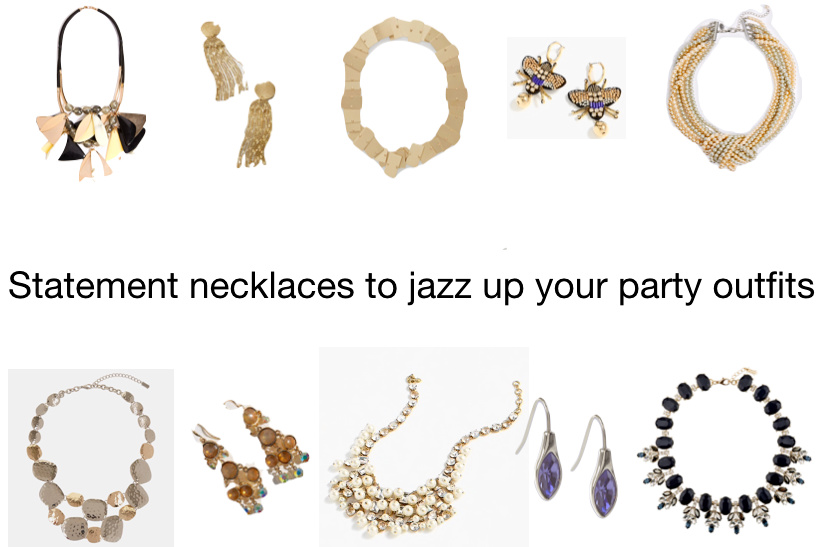 The holiday and party seasons are upon us. At this time of year, there are many calls on our possibly stretched finances. There are gifts to be purchased and festive food to be ordered. Sometimes there is not much spare cash left to buy ourselves a new party outfit. Statement jewellery is a great way to enhance your party outfits.
A stunning piece of statement jewellery comes to the rescue. A simple basic outfit can be turned into a glamorous party look with the addition of a statement necklace or an eye-catching pair of earrings.
Over the years I have acquired a large collection of statement pieces. They never seem to go out of fashion. In fact, I think, like us, they improve with age!
Nobody will notice that you are wearing the same LBD as last year if you add a new piece of jewellery.
Details top row: Resin shape necklace Marks&Spencer // Gold light drop earrings Anthropologie // Short gold metal necklace Cos // Beaded beetle earrings JCrew // Knot pearl necklace Marks&Spencer.
Details bottom row: Disk necklace Hobbs // Jewelled chandelier earrings Anthropologie // Crystal & pearl necklace // Teardrop earrings Marks&Spencer // Black crystal necklace Hobbs.
JCrew has some of the best statement earrings and necklaces
Hobbs also has an excellent range of costume jewellery
Anthropologie has an eclectic collection.
Cos jewellery is modern and minimalist
More choices: