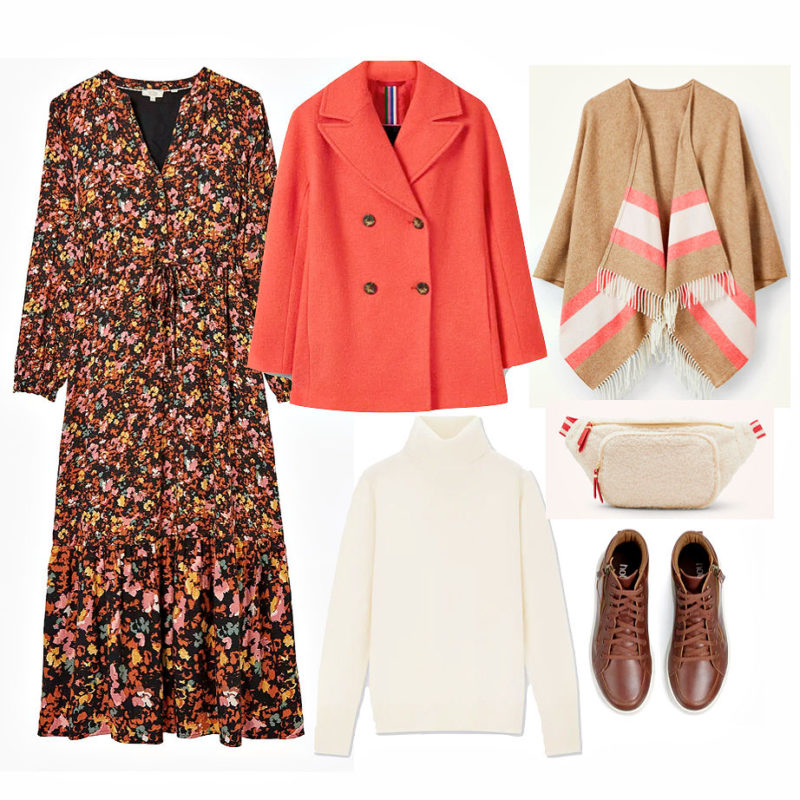 I have loved wearing my maxi dresses and skirts this summer. They work very well for me as my legs are not my best feature so I like to keep them covered if possible. I want to continue to wear my maxi dresses well into the autumn and winter so I thought that I would write about how to adapt a maxi dress for autumn. Bare legs can get quite cold at this time of year and I am not quite ready to wear my thick tights. One trick I have learnt to keep my legs warm is to wear a pair of leggings or cropped leggings depending on the length of your dress. I found a good pair that works for me in the sports department of MarksandSpencer. They have a good selection.
Details of above:
Flower print maxi dress JL&P | Red car coat Boden | Wool cape Boden | Cream wool polo neck sweater Uniqlo (US link) | Borg waist bag Boden | Brown lace-up boots Hotter.
A pea or car coat is another great addition to your wardrobe at this time of year. You may not be ready to wear your full-length winter coat depending on where you live.
Selection of car coats:
Another way to adapt a maxi dress for autumn is to add a roll-neck sweater under the dress and a wrap around your shoulders. I have chosen one from Uniqlo. I have quite a few in my wardrobe in various colours and they are very useful as an extra layer of warmth. (UK link) (US link)
Finally, we need to keep our feet warm. Chunky boots are very on-trend and there are plenty of different styles in the shops. I bought a pair at the end of last winter and am very glad that I did. If you do not like the very chunky styles you could choose one of the more classic styles.
Selection of chunky boots:
If you do not already own a maxi or midi dress (if you are petite) there are still plenty in the shops. In the collage above I have used a warm colour palette however there are plenty of cool colours available. I will shortly be showing you how I adapt my pink maxi dress in a future post.
Selection of maxi/midi dresses: