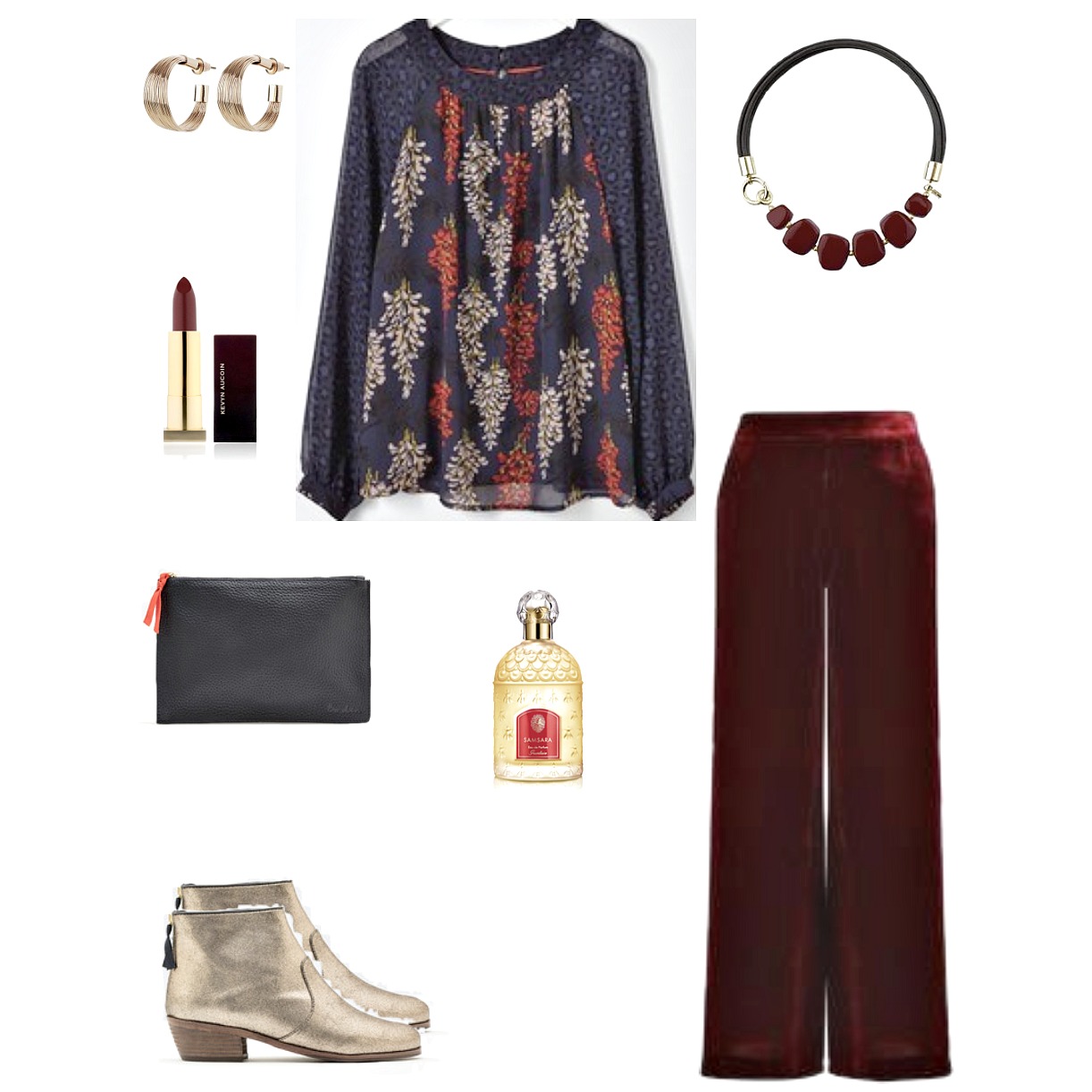 Black Friday sales have arrived early this year. Many started a few days ago. Is it my imagination or is seasonal shopping getting earlier and earlier? We will soon be having the winter sales in July!
I have decided to do a few extra posts this week to keep you up to date on this rapidly changing retail landscape. Some of the best bargains are selling out fast. I am an early bird when it comes to holiday shopping so I am happy to take advantage of this new trend.
Today I have put together a casual holiday outfit. I love this print top from Boden – 30% off CODE N6D5. I am not usually a great fan of prints; however, this one is subtle and Wisteria is one of my favourite flowers. It is definitely being added to my basket. I also like these deep burgundy velvet trousers by Hobbs – CODE OHMYDOG20.
Rich colours and velvet remind me of cosy winter evenings.
DETAILS OF ABOVE:
Gold hoop earrings // Wisteria print top // Burgundy/gold necklace // Burgundy velvet trousers // Gold ankle boots // Black clutch bag // Perfume.
Other sales that have already started and are worth visiting if you are so inclined.
The White company – 20% off this weekend. Ideal for updating your Christmas table decorations and for gifts such as candles etc.
Finery – 40% off CODE: BLACK FRIDAY – I like their tops and sweaters. See my polka dot blouse that I wore on my recent trip to Paris here
Lands' End – Up to 70% off. I bought a great pair of burgundy sneakers yesterday. (US link)
If you are a fan of HopefashionUK they have a special preview promotion CODE: BARKING20 plus 50% off selected knitwear.
John Lewis offers price matching. So if you find an item anywhere else on sale they guarantee to offer the item at the same price.